Powerful Mainstream Solution For Modern Businesses
The IAP1200 is a powerful wireless solution designed to meet the needs of modern mainstream businesses. With the latest IEEE 802.11ac technology for wireless speeds up to 1200Mbps, the stylish in-wall design is specifically for existing building structures so you can easily change an existing in-wall wired Ethernet jack to a wireless access point. Ideal areas of deployment include offices, hotels, MDUs (Multi-Dwelling Units), airports, meeting rooms, schools, campuses etc.
For hotels which demand security, flexibility and speed, the IAP1200 provides guests with a convenient wireless LAN service. With standard US or EU type Ethernet wall jacks already installed, there's no need for extra time and cost to deploy a wireless network – you can reduce re-wiring costs while blending the AP with the interior décor. And the high-density capacity is ideal for BYOE workplaces or other environments with a high volume of users and wireless devices. Multiple SSIDs can be configured for different departments or user groups and a built-in RADIUS server provides additional verification. Additionally featuring fast roaming for seamless transitions between access points, Power over Ethernet support (PoE) and an intuitive web-based management interface – which provides flexibility for deployment and extensive management options for company MIS departments and network administrators.
When performance and security are critical for your business, you need products that are engineered for your industry. The Edimax Pro series is designed to help your business and provide the connectivity that you rely on every day, with safety and effectiveness guaranteed.
KEY FEATURES
---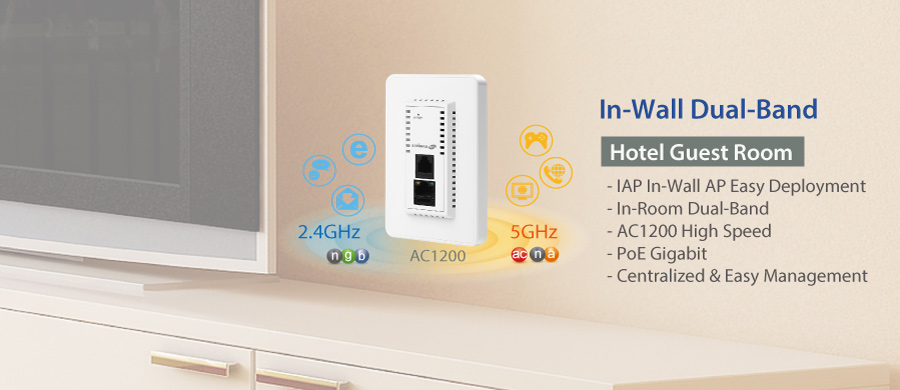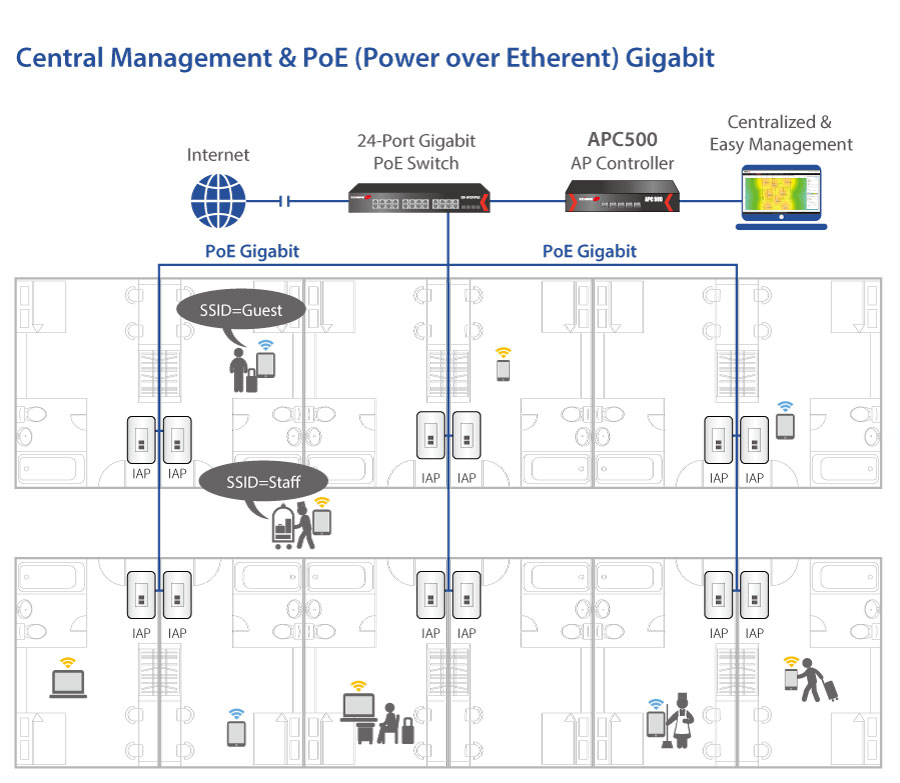 High Performance Design with High-Speed 1200Mbps Dual-Band 11ac
State-of-the-art IEEE 802.11ac wireless technology delivers the Giga-fast Wi-Fi speeds that today's fast-moving modern business environments demand. And simultaneous 2.4GHz & 5GHz dual-band coverage means maximum flexibility for mobile-centric business productivity applications. Speeds up to 300Mbps on the 2.4GHz band and 867Mbps on the 5GHz band can handle even the most bandwidth intensive tasks, perfect for audio, video and voice applications and significantly faster than traditional 802.11n Wi-Fi. Additionally Edimax Pro series products feature other high-performance design features such as solid capacitors for significantly longer lifespans than traditional non-solid alternatives, generating less heat and delivering increased stability. Durable, robust and ready for business environments.​
​Wide Coverage & Multiple SSIDs
With adjustable RF output power and high receiver sensitivity, Edimax Pro access points are equipped to provide wide coverage where it's needed the most. Suitable for large spaces across office floors, shop floors, hospital wards, or conference rooms, get the wireless coverage that staff and systems need to operate efficiently. Keep every corner of your business connected and differentiate user groups, departments or guests with up to 32 separate SSIDs with independent security. Wide, accessible Wi-Fi coverage with strong security to protect sensitive company information and supervise access to internal networks.
BYOE Solutions & High Density Networking
Bring Your Own Everything (BYOE) is becoming an increasingly commonplace company trend in offices and enterprise environments worldwide. Employees are using their own smartphones, tablets, laptops and wearable Wi-Fi devices with the latest cloud-connected productivity apps to get things done, and traditional 2.4GHz is crowded, so most of these devices need or support high-speed 5GHz Wi-Fi. And in offices, hotels, schools or other densely populated environments, access points need to cope with a high volume of users connecting to the network at any time, whether it's customers or employees. Edimax Pro solutions support the latest 802.11ac 2.4GHz & 5GHz dual-band Wi-Fi along with high-density capacity to support up to a hundred users simultaneously, ideal for BYOE workplaces and a large number of wireless devices.
Seamless Mobility
Typical wireless access points can effectively cover a 25m – 30m radius under normal usage. Now with the technological advances in Edimax Pro access points, we can extend effective coverage approximately 1.5x further, eliminating Wi-Fi dead zones completely and providing blanket coverage across enterprise environments. Wireless devices can stay seamlessly connected in environments where connectivity may be a critical component of efficiency and productivity, and benefit from mobility with high-speed connectivity across a range of wireless devices: smartphones, tablets and computers, throughout an entire organization.
Hotels, Offices, Schools and Hospitals
Edimax Pro series access points, with high-speed 11ac high-density networking for up to 100 simultaneous users, are ideal for multi-tenant unit buildings, hotels, resorts, hospitals, campuses, conventions or anywhere with large-scale network use, with safety and effectiveness guaranteed.
Rogue AP Detection & Wireless Isolation
Rogue access point detection can identify any unauthorized SSIDs which may have been installed in an otherwise secure network with malicious intent, and L2 wireless isolation provides wireless security.
Easy and Intuitive Central Network Management
Work with Edimax Pro NMS (Network Management Suite) and SKYMANGE PC web-based wireless network management software. Company MIS administrators can plan and manage Edimax Pro access points' powerful functionality according to their office space using an easy, remote web-based interface which includes a dashboard, map view, traffic statistics and wireless client list for network-wide remote administration. RADIUS settings, WLAN group settings, access control, guest network settings and firmware upgrades can all be managed centrally from a single location to reduce network downtime, aid troubleshooting and optimize network performance. Graphical zone plans with Google Maps integration and setup wizards are also available for expanding and managing large networks with multiple access points, with custom floor plans, visual overviews and easy drag-and-drop icons for quick access to key performance and monitoring information.

*NMS is built-in with Edimax Pro CAP, WAP series & OAP1750 access point. For SKYMANAGE PC, please contact Edimax support to download the software.
Easy Installation
In-wall mount design with easy installation kit.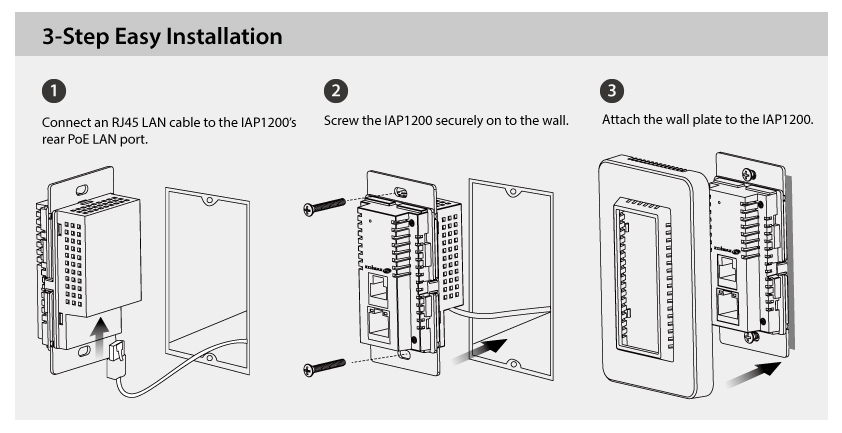 ---
APPLICATION DIAGRAM